Microsoft has been a company which has been innovating their offerings since quite a long time and the company has been coming out with many updates and upgrades for their users. They have been one of the leading names when it comes to the world of technology, and have also been a prominent player in the console markets. A leaked survey on Reddit now shows that Microsoft is looking forward towards buying back old XBOX One games.
"If the console digital games store for the console you owned offered customers the option to "sell back" their digital games to the store for 10% of the purchase price in store credit, would you be interested in such an offer?" the survey asks.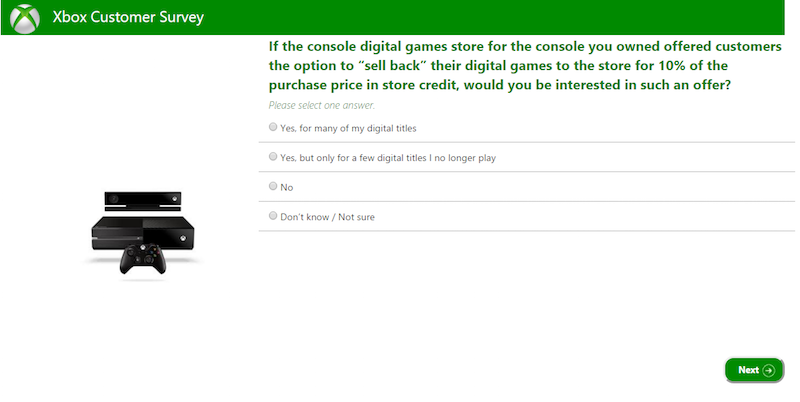 However, while this might sound like a unique offering from Microsoft with their XBOX One console, this has actually been done in the past by Green Man Gaming in 2010. They too had a similar model where consumers would exchange games for credits. Green Man Gaming used to re-sell them as pre-owned games.
As of now it is still unclear about how the XBOX One users will be affected with this, and what Microsoft plans to do with these games, but it is highly anticipated that the company is working on a similar model such as the Green Man Gaming had.
This is possibly a move towards having more consumers shift to digital games than physical games, possibly leading towards a complete shift to the cloud platform in the upcoming years. The bigger question here is, that if Microsoft decides to go the Green Man Gaming way, and they do end up re-selling these games, will they actually pay the producers for the re-sale?
As of now everything is just on paper and this might never see the light of the day, but Microsoft is indeed thinking on ways to innovate their offerings.