Apple has been a company which has time and again surprised the users. The company is fond of pulling off surprises and has always managed to surprise the audiences with something new that they do every time. And they have done it again! This time, not with any product, but with numbers. The sales figures for Apple have been quite good and in a time where the markets at large are slowing down, Apple has pulled off quite a surprise! Apple's impressive display is assisted by the slowdown as all the other PC makers have fallen in numbers.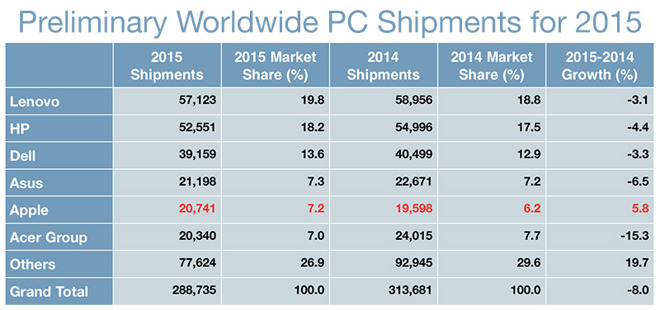 The charts indicate that Apple has managed some to sell 20 million PC devices this year, which ranks them fifth in terms of units sold, below Lenovo, HP, Dell and Asus. Lenovo tops the charts of units sold, but falls when you look at the growth.
Lenovo is the toughest competitor for Apple in the markets of PC sales, as the company has slowed down by just 3.3%, but for Apple its still a reason to rejoice as the company has managed to not only sell 20 million devices this year, but also has grown by 5.2% since last year. The only name in the charts which has shown a positive growth.
In the year 2014, Apple had 6.2% of the global market shares, but in 2015, the company has grown to 7.2, just 0.1% behind the no. 4 spot, which is that of Asus. In a time where other industries are declining, Apple has pulled off quite a miracle here!
Not only has Apple done it in a year which was marked bad for PC sales, they've also done it in a year when Microsoft came out with their ground-breaking OS, the Windows 10, upon which their next ten years are based. As of this moment there is no direct co-relation between Windows 10 OS and PC sales but by this time next year, the picture would be much clearer.